Overview of A-Prompt
A-Prompt (Accessibility Prompt) is a software tool designed to help Web authors improve the usability of Web pages created in HTML format. A-Prompt first evaluates an HTML Web page to identify barriers to accessibility by people with disabilities. A-Prompt then provides the Web author with a fast and easy way to make the necessary repairs. The tool's evaluation and repair checklist is based on accessibility guidelines created and maintained by the Web Accessibility Initiative of the World Wide Web Consortium.
By taking this approach, A-Prompt helps Web authors to include HTML features which widen the range of users who can access their website. As well as providing better access for people with disabilities, the resulting Web pages are generally improved for all people and in a larger variety of circumstances. For example, the inclusion of text alternatives for all images makes it possible to understand Web pages in a low-bandwidth text-only situation.
A-Prompt is an application available for Windows 98/98SE/2000/Me/XP.
A-Prompt allows the author to select a file or for validation and repair, or select a single HTML element within a file. (Fig. 1)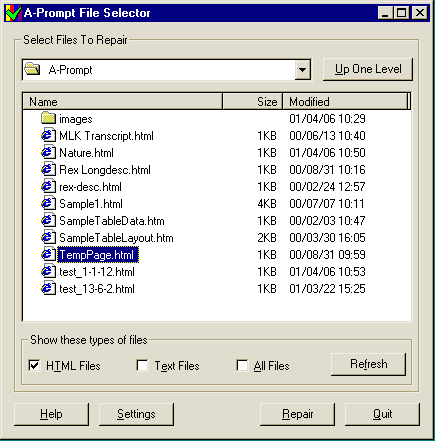 The tool may be customized to check for different conformance levels, based on the Web Accessibility Initiative (WAI) Web Content Accessibility Guidelines 1.0. If an accessibility problem is detected, A-Prompt displays the necessary dialogs and guides the user to fix the problem. Many repetitive tasks are automated, such as the addition of ALT-text or the replacement of server-side image maps with client-side image maps. (Fig. 2)
Fig. 2. Screen shot of ALT text prompt dialogue box.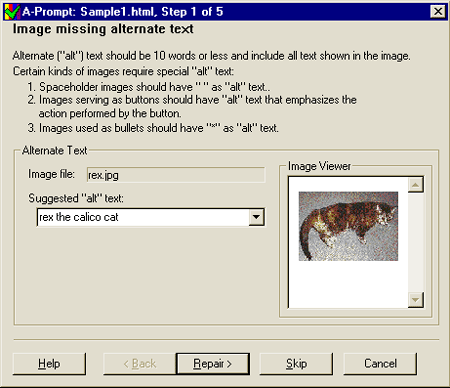 When all potential problems have been resolved, the repaired HTML code is inserted into the document and a new version of the file may be saved to the author's hard drive. After a web page has been checked and repaired by A-Prompt it will be given a WAI Conformance ranking.
[ top ]
Continue to A-Prompt Quick Start Tutorial